Gillian McKeith's Restaurant Guide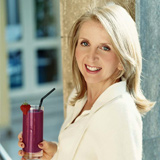 Welcome to Gillian McKeith's Restaurant Guide. An online resource of where to eat healthily! A fantastic place where you can recommend and search healthy restaurants around the World!
You can provide your evaluations of these restaurants and make your own comments using the Gillian McKeith philosophies and principles: purity, wholesomeness, natural, organic, sugar free, salt free, cream free, lots of fresh fruits and vegetables, pulses, grains, beans, seeds and nuts as benchmark criteria in evaluation. Healthy consciousness will be the standard.
Gillian is asking you to be her tasters, for you to help her with her mission to 'empower people to improve their lives' through helping them find healthy eating restaurants, whether on your doorstep or while you've been away on holiday or business. You can make your restaurant evaluation known to all of us based on the primary criteria of healthiness.
Here are some ideas of information you could include in your review:
Examples of what is on the menu.
What you had and how tasty.
Healthy Criteria: Was it pure and natural? Organic? Vegetarian? Vegan? Hold the sugar, salt and cream?
Is the restaurant offering healthy foods? Are there healthier options available?
Will they accommodate your healthy requests? Is there a healthy consciousness?
The general ambience.
Website, email and telephone number of the restaurant so others can visit too.